Mentalconsult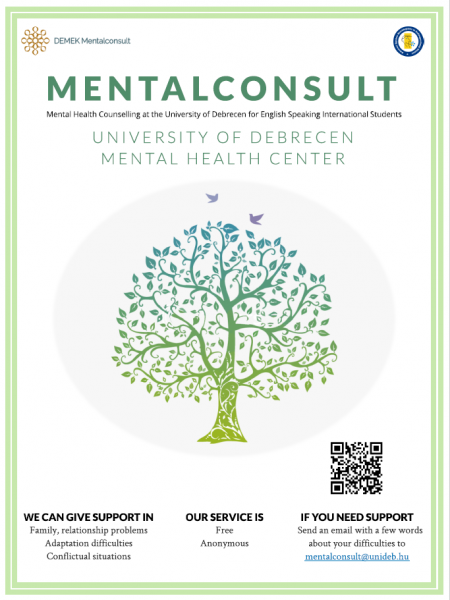 My name is Pintér-Eszenyei Zsuzsanna, I am a clinical psychologist.
It has always been obvious for me that I wish to work with people, and it soon became clear that my goal is deeper understanding and supporting others.
During my bachelor years I have been a peer helper at the University of Debrecen, Mental Health Center.
Later I became a health psychologist and got my degree at the University of Debrecen, Department of Behavioural Sciences in clinical and mental hygiene psychology.
After my studies I worked in healthcare and I am still working as a psychologist at Kenézy Gyula Teaching Hospital. In the spring of 2020 I was asked by the head of the Mental Health Center to coordinate the service of mental health counselling for international students at our university. This is a task that I welcome with joy, since beside psychology, learning and speaking foreign languages has always been close to my heart. This way I can merge two of my favorite occupations into one. Nevertheless, doing so at the same place where I spent my years as a student.
It is an important part of my job to support those who have certain personal difficulties. As a psychologist, in my opinion, one of the most important things is to help these people utilize their resources and opportunities that are already in their possession.  For achieving this goal I would like to provide new perspectives and a safe space by which it becomes possible.
---
Service description – DEMEK Mental Health Counselling for International Students
As a student of the University of Debrecen you have the possibility to receive mental health support that is provided by mental health professionals at the University's Mental Health Centre. 
Our service includes 1+4 sessions. The very first meeting is for the definition of the problem why you are searching for help and for introduction. After that, 4 sessions are dedicated to deal with the defined problem itself. We can give support in the following topics: family and relationship problems, conflictual situations, adaptation difficulties in new situations. 
According to the profession's ethical standard, any information shared by both participants is confidential, which means that no information will be released without your consent. 
There are special situations, in which confidentiality cannot be held in favor of your and/or other people's safety. These include:
Clear evidence of imminent danger of harm to self and/or others. In this case we are obliged to inform the authorities responsible for ensuring safety (e.g. ambulance).

We are working as a team, which means that your counselor may consult with another professional from the team for professional purposes and regarding the student, anonymously. 
Our service is financed by the University, which means, it is free of charge for students.

Appointment Accountability: Please arrive on time for your appointment! In case you cannot attend, please inform your counsellor as far in advance as possible. Missed appointments without cancelling or not showing up for the session reduces our capacity to provide help to you and other students. After a cancelled appointment or no-show, you are responsible for scheduling your next appointment. 

Office hours: only by appointment!
CONTACT INFORMATION AND APPOINTMENT
Updated: 2020.12.15.
---